Just in Time
a deufert&plischke correspondence
›Just in Time‹ is a choreographic letter project that has so far been realized in three cities and will move on to several other cities in 2018. The idea is for people to meet and talk about dance, to dance and to write individual letters to dance. These letters are documents and snapshots of an encounter with dance, often written down in less than half an hour. All the letter writers also noted a favourite movement, which was then included in a celebratory ball held in each city at the end of the project.
In March 2018, a mobile version of ›Just in Time‹ will take up station at the Dance Platform in Essen.
In a designated space, visitors can not only interactively inform themselves about the letter project, but also write letters to dance and articulate their own favourite movements. Texts and photographs from the three cities visited to date will also be on exhibition. At regular times the space will be open for dancing, games and writing.
Further information, photographs, blog and trailer under:
http://deufertandplischke.net/gerade-rechtzeitig-just-in-time
WED 14.03. 
16-18 h
THU 15.03 - SUN 18.03.
10-18 h
Workshops, exercises, conversations with deufert & plischke:
THU 15. - SAT 17.3.: 10.30 - 12.30 H & 15 - 16.30 H
SUN 18.3.: 10.30 - 12.00 H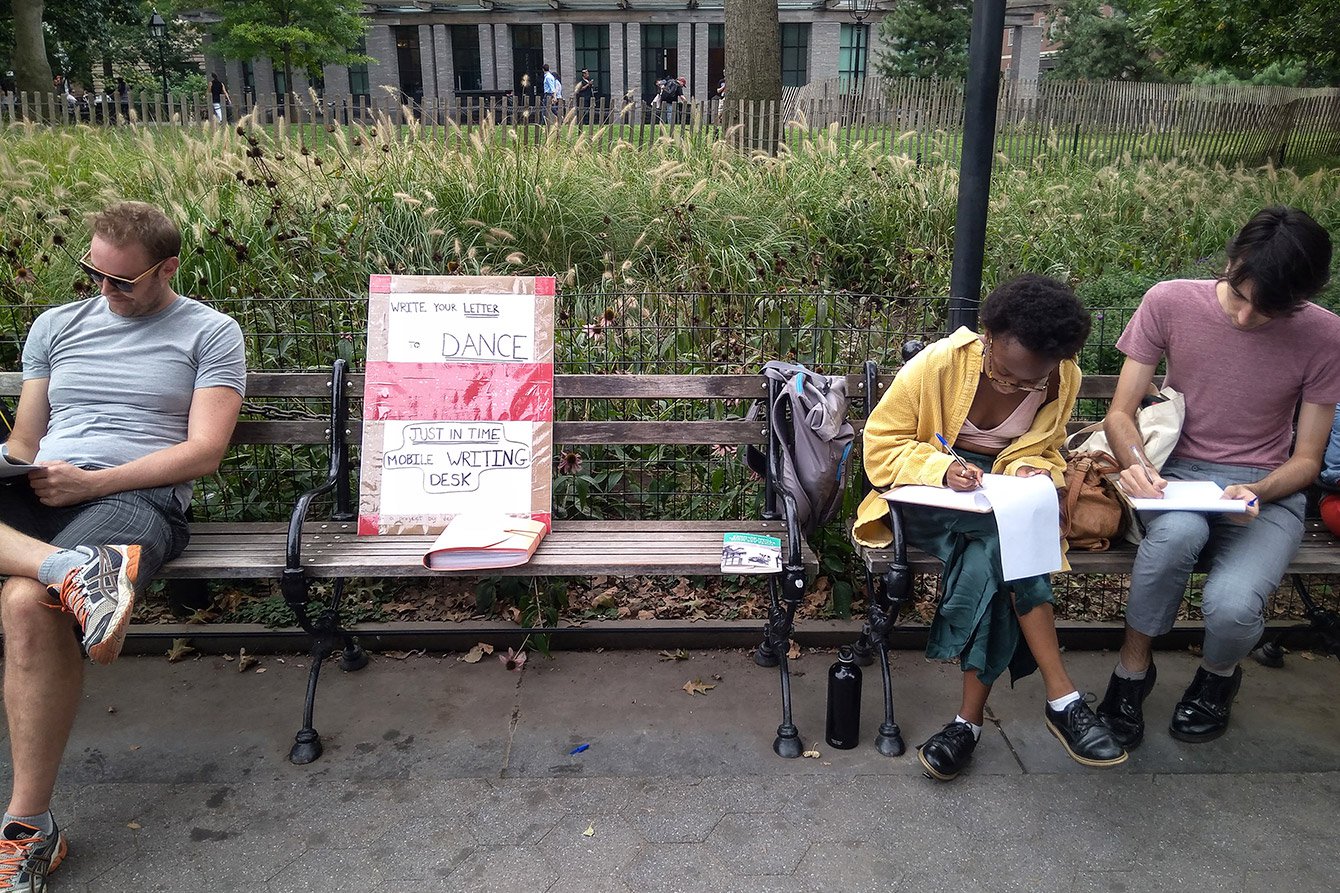 Concept / realisation: deufert&plischke Project coordination: Kareth Schaffer With: Alain Franco, Miriam Jakob, Roni Katz, Omer Krieger, Lee Meir, Janet Panetta, Valda Setterfield, Kareth Schaffer, Jaime Wright Set: Valentina Primavera Production: Annett Hardegen Support: TANZFONDS ERBE - an initiative of the Federal Cultural Foundation Co-produced by the Goethe-Institut.