Claire Cunningham / Jess Curtis


The Way You Look (at me) Tonight
Wed 14.03.18

20 h

Thu 15.03.18

14 h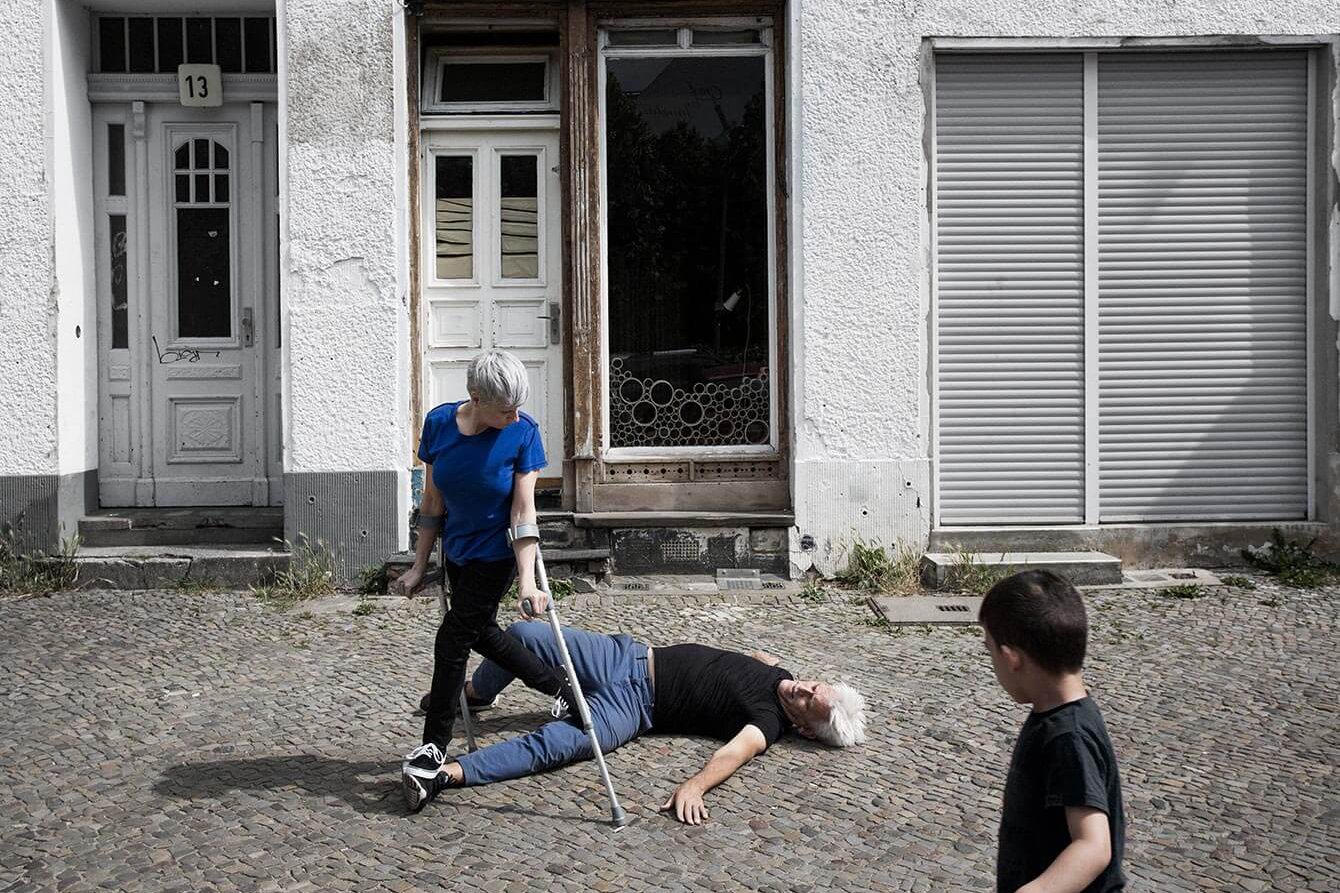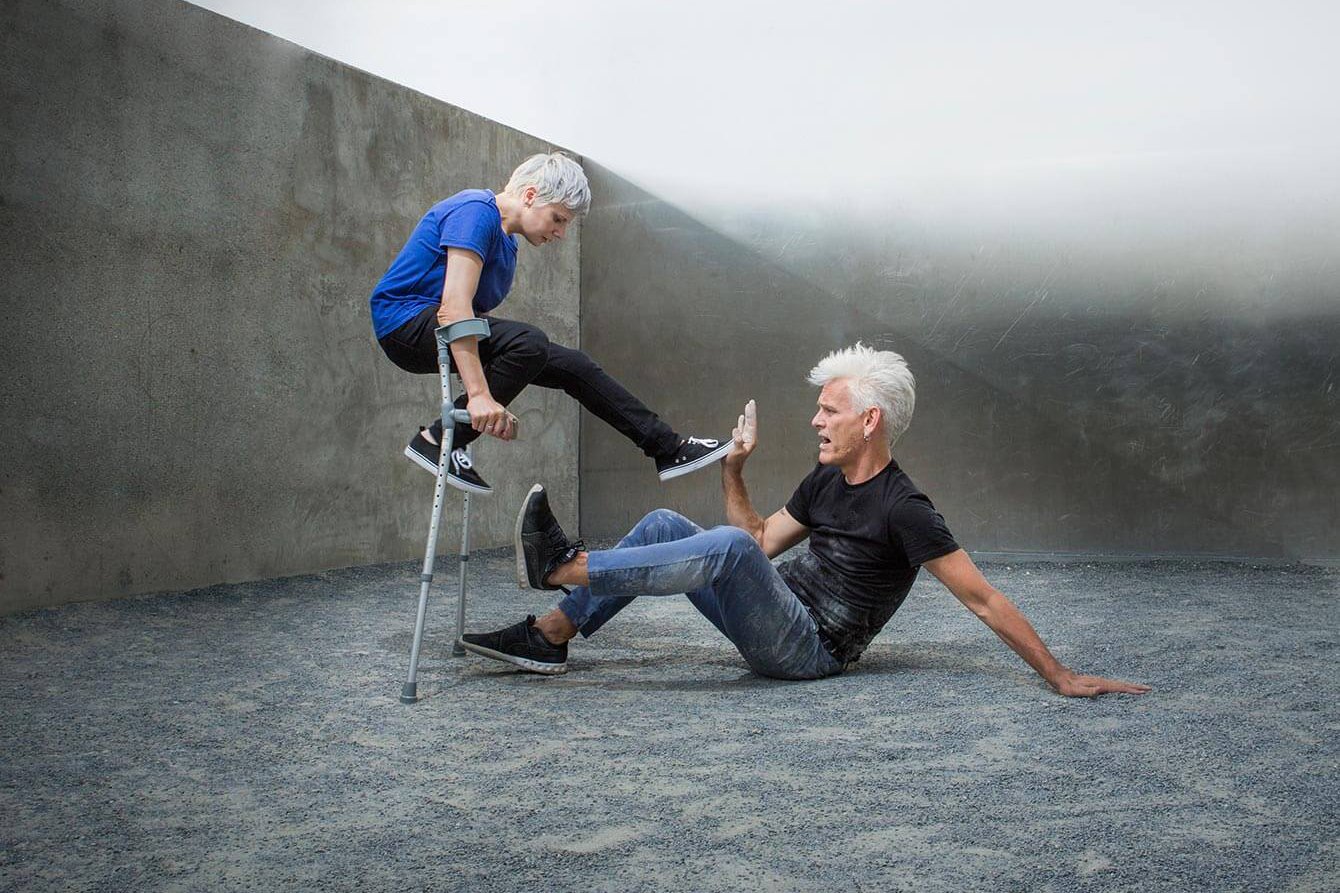 18 € / reduced 9 €
90 MIN.
Partial seating.
English with German subtitles.
Audio descriptions and texts in Braille available in English.
Tickets for sold out performances may become available at short notice. Changes will be announced here.
Tickets 14.03. 20h
Tickets 15.03.14h
How do we look at each other? How do we allow ourselves to be seen? How do our bodies shape the ways we perceive the world around us? Can we change how we see others?

»The Way You Look (at me) Tonight« is a social sculpture – a sensory journey, for two performers and the audience. Dancing, singing, telling stories, and asking questions, UK artist Claire Cunningham and international choreographer and performer Jess Curtis, combine performance, music, and video to wrestle (sometimes literally) with questions about our habits and practices of perceiving each other and the world. In collaboration with noted author and philosopher of perception Dr. Alva Noë, video artist Yoann Trellu, composer Matthias Herrmann, and dramaturge Luke Pell, they created a duet that excavates their own ways of seeing each other – as a man and a woman of different ages, bodies and backgrounds. The audience, too, will be requested to experiment with their own perception.
Created and performed by: Claire Cunningham, Jess Curtis // Philosophical consultation: Alva Noë // Video Design: Yoann Trellu // Composed by: Matthias Herrmann except for ›The Way You Look Tonight‹ by Jerome Kern and Dorothy Fields performed by Fred Astaire // Dramaturgy: Luke Pell // Costumes and set: Michiel Keuper // Set assistance: Saskia Schoenmaker // Lighting Design: Chris Copland // Co-production: Jess Curtis / Gravity, Claire Cunningham // Sign Language Interpreter: Laura M. Schwengber // Texts: Claire Cunningham, Jess Curtis, Alva Noë including excerpts from ›Varieties of Presence‹ and ›What We Know Best‹ by Alva Noë and Nicole Peisl // Made possible by: Unlimited - funded by the National Lottery through Arts Council England, Arts Council of Wales, Creative Scotland and Spirit of 2012; The New England Foundation for the Arts' National Dance Project, funded by the Doris Duke Charitable Foundation and The Andrew W. Mellon Foundation, with additional support from The Kenneth Rainin Foundation, The San Francisco Arts Commission, The Zellerbach Family Foundation, The San Francisco Arts Commission, The Zellerbach Family Foundation San Fransisco Grants for the Arts; Fonds Darstellende Künste; Co-financing fund of the Governing Mayor of Berlin - Senate Chancellery | Cultural Affairs // Co-commissioned by: Tramway Glasgow // Supported by: The Place London, Tanzfabrik Berlin, Norfolk & Norwich Festival, British Council
www.clairecunningham.co.uk // www.jesscurtisgravity.org
WED 14.03. 
German sign language interpreted performance